What Are Men's EDC & Why Do You Need Them?
EDC or EDC items - you may have come across this term when shopping for a pocket knife, messenger bag, or duffel bag. What does EDC mean, and why do you need to know about it? EDC stands for 'EveryDay Carry' and, as the name implies, simply means all the gear and various gadgets you carry with you on a daily basis.
Why Do You Need An EDC?
Technically speaking, you already have an EDC. You already have a set of items you carry with you every day. When we talk about having an everyday carry EDC, we talk about having awareness about your everyday carry items.
Being aware of the things you need to have with you daily is important because it saves you the trouble of deciding what to take on a daily basis. It also helps you organize your essential items and have convenient access whenever you need them. Having a set of essentials also makes it easy for you to adjust your items to suit your changing needs and purposes.
Know Your Essentials
Not all men's everyday carry items are created equal. Another man's EDC items may be suitable for him but may be too much or not enough for you. The first step to knowing what your everyday carry EDC consists of is to figure out what your essential daily items are.
Your daily essentials are the things you check before going out of the house and will come back for if you happen to leave them at home. They can be things with monetary or sentimental value, anything you find useful for your daily life. The following are the absolute essentials that most men have in their everyday carry EDC:
Money And Wallet
Money makes the world go round, and you certainly need it as you go about your day. Your wallet and the things you keep in them are at the top of the list for your EDC essentials.
You can have your money secured with a simple money clip, but using a wallet can help hold your credit cards and essential IDs. A wallet is also handy for keeping receipts and important pieces of paper you encounter daily.
Keys
The average person carries at least nine keys with them. Your EDC gear should include an item that helps you organize your keys, no matter how many keys you need to carry everyday with you.
Keeping your keys in a key holder like a keychain or keyring ensures that you don't leave a single critical key behind. You can detect a missing key and stay on top of things by constantly checking your keys before starting your day and by the end of it.
Smartphone
It's no denying that we live the majority of our lives through our phones. We rely on it for connecting and interacting with other people, accessing information, managing our money and assets, and capturing moments through photos. If you are like most tech-dependent people, your day is incomplete if you don't have your phone with you.
Your phone is the first thing you check upon waking up in the morning, and the last thing you look into before going to bed at night. Your smartphone is also a multi-purpose tool that you can use for your office or school work and entertainment and recreational activities.
Know The Other Things You'll Need
In addition to your money and wallet, smartphone, and keys, you may need other things to help you tackle your day. You may consider adding the following items to your everyday carry EDC essentials.
Watch
Your smartphone can tell the time for you, but having a watch as a part of your everyday carry can add style points to your daily look. A quality watch can easily make you appear more put together and distinguished.
Depending on your destination or activities, you may opt for a tough and portable timekeeper such as a tactical waterproof watch that is less bulky than your smartphone. Also, you can always have a watch as a backup in case your phone batteries run out. There are also smartwatch options to enjoy additional functions other than keeping the time.
Pocket Knife
Pocket knives come in different sizes and styles. You can choose to take a classic knife with a single knife blade or a multi-tool type. Multi-tool pocket knives can come with a mini pry bar, mini scissors, a Phillips head screwdriver, and even a bottle opener, among other things.
There are several multi-tool brands to choose from, and they are a staple in the EDC of men who want to accomplish a lot during the day and love to prepare for every eventuality. Multi-tools are handy for home & office, camping, and other outdoor activities.
Pen And Notebook
A pen and notebook are staples of the writer's everyday carry EDC. You can take any writing tools you prefer or your job requires, be it pens, pencils, even fountain pens. Carrying high-quality pens to sign documents and write your notes adds a classy and elegant touch.
A writer's everyday carry items must also have pocket notebooks such as Field Notes. Small notebooks are handy if you need to jot quick notes, write to-do lists, or take down important information like phone numbers.
Lighter And Flashlight
You don't need to be a smoker to keep a lighter with you as an everyday carry EDC item. Having a ready and convenient source of fire and light can be handy in emergencies.
A flashlight can also come in handy as a backup light source for your smartphone in case of drained batteries and power outages.
Your Everyday Carry Case
It depends on the number of your everyday carry items, but you may need more than your pockets to carry them. The following are your choices for a carrying case if you need more space for your EDC essentials.
Backpacks Or Duffel Bags
You need bigger-sized bags if you have many EDC items. A backpack or duffel bag is easy to carry to school or to the gym. These versatile and large-capacity bags are popular among students and professionals.
Crossbody Or Messenger Bags 
Another popular men's bag for carrying EDC essentials is the crossbody or messenger bag. This type has a smaller capacity, but they are easier to carry. 
A smaller version is the fanny pack that can appeal to bikers. These bags have extra pockets or compartments for the added organizing functions for your everyday carry items.
Portfolios and Padfolios
Portfolios and padfolios are hand-held cases that appear smaller and more compact than other EDC carrying cases. But the right designs can hold more items than you would expect. 
Some popular styles of padfolios have a stylish and minimalistic look. These cases can organize and protect your money, cards, phone and other devices, notebooks, pens, keys, and other EDC essentials.
Modify And Adapt
The things you carry every day aren't always the same because your needs don't stay the same. You may need different EDC items for various destinations. You may add more items to your EDC case when traveling abroad or remove some gear if you are only running errands at home.
If you have a clear knowledge of what is essential for you, you can easily modify and adjust your everyday carry items. Thus, your EDC kit can quickly and effectively adapt and suit your needs.
Interested in padfolios or portfolios for a compact but multifunctional EDC case? Click here to choose the best fit for your EDC kit 
Please don't hesitate to comment if you found this article helpful or contact us if you have further questions.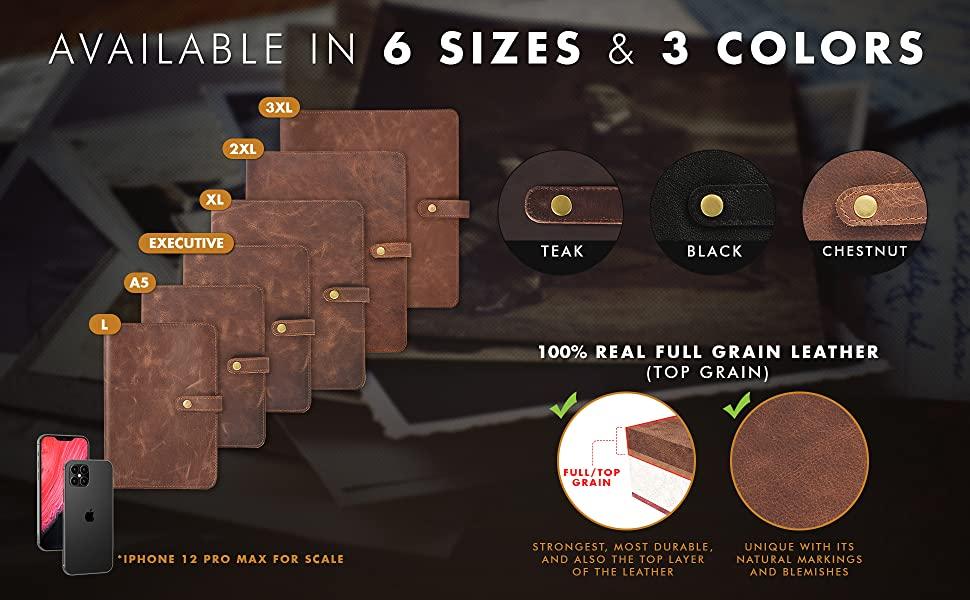 Understanding & Comparing Notebook Sizes
Knowing all about the different paper and notebook sizes is essential if you are a fan of international stationery products. Or if you conduct business abroad and need to align your document sizes ...
Read more