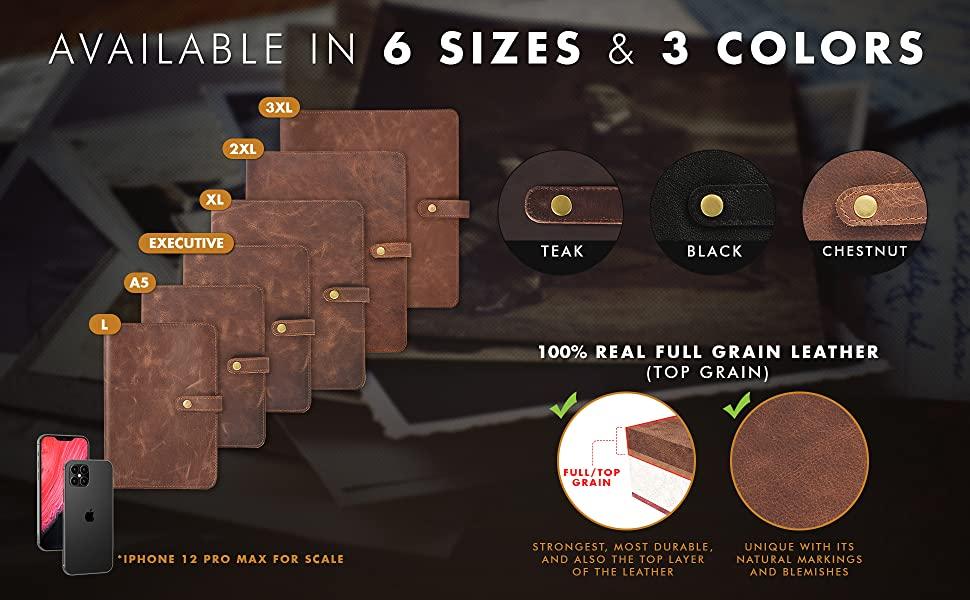 Understanding & Comparing Notebook Sizes
Ask anyone in the US, Canada, or Mexico what the standard paper size is, and the typical answer would be "Letter size" or 8.5 x 11 inches. We are still far from making sense of the standard international paper sizes, much like we can never wrap our heads around the metric system.
The "A" Sizes
The most common and widely recognized standard for notebook and paper size is the A-sizes or A series of paper sizes. This sizing chart, which originated in Germany, became the most used world standard for notebook sizes in the 1970s.
The A sizes for loose leaf paper are the same as those used in notebooks and other bound paper products. So, an A4 paper has the same length and width as the pages of an A4 notebook.
The general rule for the A series paper sizes is that the higher the number, the smaller the paper. And that each size has the same aspect ratio or width to length ratio of 1 is to the square root of 2. This ratio means that each size is obtained by cutting the next larger size in half crosswise. So, A5 is half of A4, A6 is half of A5, and so forth.
The "B" Sizes
The B series or B-sizes are not as common as the A-sized ones, but they are the go-to sizes for posters, books, envelopes, and passports. The B-sizes were developed to have dimensions that are in-between the standard A-sizes.
The B series has paper sizes that are in between two A sizes. B5 paper, for example, is smaller than A4 paper but larger than A5. From this, you can note that B-sizes are bigger than A-sizes, so B4 is bigger than A4, B5 is bigger than A5, etc.
As with the A series, standard B-sizes have the same aspect ratio of 1:√2. Thus, the B series also have paper sizes where you can cut a larger B size in half to get the next size.
The ANSI Sizes
American paper sizes defined by the ANSI (American National Standards Institute) are still in use in North America, including the US, Canada, and Mexico. The ANSI standard Letter size is used mainly for full-sized notebooks and the Pocket size for smaller notebooks. The American Letter size is the broader and shorter version of the A4 paper, and the Pocket size is the shorter version of B7.
The ANSI Legal size is not a typical paper size for notebooks, but binders, sketching, and drawing books can come in this size or the larger Ledger/Tabloid size. Legal is similar to Letter in width but is slightly larger by having 2 inches more in length.
Other Sizes
The global standard for A and B sizes are defined by the ISO (International Organization of Standardization). But Japan, the world's leading stationery manufacturer, does not follow the ISO standard and has B-sizes defined by its own JIS (Japan Industrial Standards Committee). Most JIS B-sizes are slightly larger than ISO standard B-sizes.
Notebook makers and paper manufacturers can also have unique paper sizes for their specialty papers or limited editions of their notebook products. Popular brands like Moleskin notebooks, Field Notes Brand, Midori, Leuchtturm1917, etc., can have products with dimensions that do not conform to the standards above.
Choosing Among Different Notebook Sizes
The size of the notebook you need depends on your writing purposes. Browse through the common notebook sizes below to find the one notebook that best fits your specific purpose.
The following paper and notebook sizes are listed in decreasing size, and the dimensions are in width x length. Note that the B-sizes listed are the ISO standard dimensions. As mentioned above, B-size papers and notebooks can vary. So make sure to check the actual dimensions of your brand before buying your notebooks and accessories.
B4 (ISO: 9.8 x 13.9 in or 250 x 35 mm or 25.0 x 35.3 cm)
This size is not common for use as notebooks but more as sketchpads, painting booklets, and similar artistic portfolios. B4 paper sizes provide plenty of space and are useful for illustrators, cartoonists, and comic book artists.
Legal (8.5 x 14.0 in or 216 x 356 mm or 21.6 x 35.6 cm)
Legal-size loose leaf paper is used for legal documents and contracts. Note that a legal pad or notepad is different from loose-leaf Legal paper. Legal pads always have lined pages and most products come in yellow canary color.
It is also worth noting that legal notepads are not always Legal in size. Some legal notepads come in a Letter size or smaller.
A4 (8.3 x 11.7 in or 210 x 297 mm or 21.0 x 29.7 cm)
The loose-leaf A4 size is the most common school and office paper for general purposes. Notebooks of this size are useful if you need plenty of room for writing and note-taking. A4 notebooks give you enough space for use as a composition notebook or to sketch designs or full-size drawings.
A notebook in A4 size can come in lined, graphed, or blank pages. This size is not as portable for traveling, but if you need it for school or work, a regular-sized backpack has no problem holding it.
Letter (8.5 x 11.0 in or 216 x 279 mm or 21.6 x 27.9 cm)
One of the most common paper sizes in the US, the Letter size is similar to A4 and can be used for the same purposes. But a Letter-sized notebook is no longer as common as an A4 notebook. The majority of Letter-sized papers are in loose-leaf and blank forms for use in printing school and office documents.
B5 (ISO: 6.9 x 9.8 in or 176 x 250 mm or 17.6 x 25.0cm)
B5 notebooks are fast becoming one of the most popular notebook sizes among students and professionals. Dimensions may vary, but this roughly 7x10-in notebook is just the right size for most writing purposes.
This notebook size is larger than the three common journal sizes A5, B6, and A6. B5 is the perfect medium sized notebook. It has more space for writing than an A5 notebook yet is not as cumbersome as A4. B5 is also a common paper size used in making books, sketchbooks, and doodle books.
A5 (5.8 x 8.3 in or 148 x 210 mm or 14.8 x 21.0 cm)
A5 is the largest size out of the three common journal sizes and a go-to size for regular notebooks. An A5 notebook is also a favorite size for travelers who want plenty of writing space for a travel journal but without the bulk.
A5 is large enough for your hand's comfort in writing and can fit small bags, drawers, or nightstands. This size is also ideal as a bullet journal, composition notebook, and work notebook.
B6 (ISO: 4.9 x 6.9 in or 125 x 17.6 mm or 12.5 x 17.6 cm)
Slightly smaller than A5, B6 is a great alternative to A5 for use as a journal, traveler's notebook, office notebook, and other writing purposes. A B6 notebook comes in 5x7-in size that can vary by a half or third of an inch. This notebook can be held comfortably by hand and fit any small bag or padfolio.
A6 (4.1 x 5.8 in or 105 x 148 mm or 10.5 x 14.8 cm)
Similar to A5 and B6, A6 is also an excellent choice for a journal or traveler's notebook. This notebook size is perfect if you need a small and portable journal.
A6 is your notebook size of choice if you want more writing space than a pocket sized notebook but still want something that is easy to carry wherever you go. You can use it to record class notes, write down meeting notes and appointments, draft short stories, and even do quick sketches.
Pocket Notebook (3.5 x 5.5 in or 148 x 210 mm or 14.8 x 21.0 cm)
Portable and pocket friendly notebooks use sizes Pocket, B7, or A7. These sizes are perfect for quick note-taking and traveling.
Some pocket notebook products also double as a holder for passports. This size can fit into any regular jacket or pants pocket but can be too large for a shirt pocket.
B7 (ISO: 3.5 x 4.9 in or 88 x 125 mm or 8.8 x 12.5 cm)
B7 is a similar size to the Pocket notebook and can serve the same purpose. Most B7 sizes are spiral notebooks and top-bound.
A7 (2.9 x 4.1 in or 74 x 105 mm or 7.4 x 10.5 cm)
A7 is another portable and travel-friendly notebook that fits comfortably in any regular shirt or pants pocket. It can't hold a passport but is very handy for quick notes and to do lists.
Notebooks For You!
There is a notebook for everyone and every purpose. Even in this digital age, when typing on keyboards and tapping on our smart screens are the norm, writing on physical paper still has its benefits and old-world charm.
Please leave us comments below if you found this article helpful in your goal of understanding how different sizes of paper and notebook compare with one another. Now that you're the notebook sizes expert we hope you are after reading this, shopping for your next notebooks and notebook accessories should be a breeze. 
Please don't hesitate to comment or contact us if you have further questions.