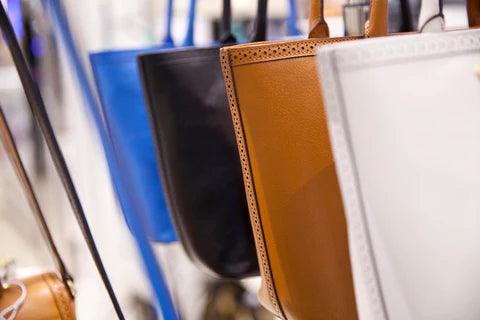 Leather Tote Bags — History, Uses & More [2021]
Leather Tote Bags: History, Uses & Everything You Need To Know About It In 2021
Is there a carryall bag that works for any occasion? If you can only own one, what's the best to buy?
We at Elizo manufacture the best leather products in the market including leather totes. And we are here to help you navigate this product and show you why it's a must to own one.
What is a leather tote?
A leather tote bag is a large and strong bag that is often unfastened and made of leather. It comes in a very simple form — a single panel of materials stitched on two sides to create a bag and looped handles are secured on either side of the aperture. They are wide open and sometimes secured with a magnet closure to easily search and get or access the content of the bag while on the go. They often have a pebble leather texture.
In terms of price, a leather tote is more expensive than a regular tote made of canvas or cloth because it is made of luxurious leather and is valued as a fashion accessory. Leather gives a tote a classic and elegant appearance without sacrificing quality because leather is an extremely durable material.
Tote bag history
This type of bag has humble beginnings, they are called "tote" because they are designed to carry items. In German "tute" means "bag" and it is often used as reusable shopping bags before. 
Meanwhile, some believed that tote or toting originated from West Africa. In Kikongo, the word "tota" means "to pick, up" and in Swahili "tuta" means "to carry."   
In 1944, L.L. Bean introduced its famous Ice Bag which was designed to help carry ice from the car to the freezer. The bag became a hit and went beyond ice-carrying that L.L. Bean took note of it and designed the bag with different colors and options.
However, it was American designer Bonnie Cashin who paved the way for leather tote to be a fashion item. She designed a stylish leather tote in a variety of colors.
Yes, initially it was made of a sturdy and strong fabric like a canvas to perform heavy tasks. As fashion evolves, designers have started using leather and they have become part of the luxury bags today. 
Why leather tote bags are popular?
There are a lot of reasons to love a leather tote and here are some of them.
Trendy
They are functional and fashionable at the same time. They come in various sizes and colors - black, brown, chestnut and more— to tap on your personal style. Celebrities also approve of leather tote! Angelina Jolie, Nicole Kidman and Kim Kardashian have all been photographed out and about using this bag.
Versatility
Whether you are attending a casual or formal event, a daytime or nighttime gathering, this bag is a perfect choice. It can be your beach bag, work bag, office bag, school bag, gym bag, laptop bag, shopping bag or baby bag. It has multiple uses and it won't bring you down.
Reusable
They are originally designed to be reusable. Leather is a durable material and is sure to make your tote last long and endure a tough environment. So you can re-use it with confidence for whatever purpose it may serve.
 Easy search
A classic tote has no zipper but an open top which makes it so easy for you to search for the stuff inside. Whether you are looking for your phone, keys or wallet, one peek is what it takes and the search is over. You will immediately find whatever item you are looking for.
Convenient access
Whenever you need to get something inside your bag, you do not have to unzip or put it down. You can just open it wide by parting the handles and you will then have immediate access to your stuff. The original design has no zipper, you can just put your hands inside the bag to get your essentials.
Spacious
One of the things that many love about it is its being sizeable. It can accommodate all your stuff whether it is for work, travel or school. You do not have to take several bags, because a tote is your carryall bag.
Makes a perfect gift
If your mom, sister or best friend has something to celebrate, a new leather tote would make a perfect present for them. This type of bag is a must for every woman's closet because it is versatile, reusable, and spacious. It is also very stylish and trendy.
What is a leather tote bag used for?
Tote bags are very popular for their versatility because they are designed to be strong for practical uses like carrying groceries, paperwork, electronics, or gym gear. You can actually use them in any way you want. 
To give you an idea, here are some of its uses.
Work
Leather tote bags look chic and sophisticated. They are perfect for your laptop, iPad, newsletter or binder to keep your things organized and safe while you are on your way for a business meeting and presentation.
Their sleek and simple design gives you a smart aura that can boost your confidence. You can also keep your makeup and other essential items in there to freshen up before you meet your business partner or potential client because they are usually huge to carry everything you need in one go without weighing you down.
School
Students usually carry a lot of things in their bags — textbooks, notebooks, laptops and more. Sometimes they have to carry extra clothes for curricular activities. A leather tote is strong and durable to keep up with a student's demanding lifestyle without sacrificing the aesthetic. 
Travel
A classic leather tote is a perfect choice for traveling. It is fashionable no matter where your destination is. Also, due to its design, it will be easy for you to access your ticket and passport at the check-in counter. Some come with a pocket at the back or front where you can place your phone, so you are always ready to capture the moment.
Plus, it is spacious enough to carry your water bottle and other items you need while you explore the city that you once just dreamed of. And if you come across a souvenir that you want to take home, a leather tote bag always has a space for it!
Shopping
There is no doubt that leather bags exude luxury. However, they are also inspired by the concept of a reusable grocery bag that's why they are designed to be big enough to be filled up. In fact, there are leather market totes designed for this particular purpose. So, yes you can also use them for shopping!
Its two straps make it convenient and comfortable for you to explore the store while you get the things on your grocery list because you can place it on your shoulder and keep it close to your body to guard your wallet inside. And, it is durable enough to carry an astonishing amount of weight. It is ready to accommodate a jar of Nutella, a whole loaf of bread, a few cans of drink and more.
If you want to buy a gadget or accessories, a new dress or shoe, your tote bag may come in handy.
Nappy bags
Modern moms love to use leather totes as their diaper bags because they are spacious and stylish. Some come with inside pockets to help organize their baby's things and some come with exterior pockets for keys, cash or phone.
Some mothers use a diaper organizer where they arrange their child's diapers, clothes, feeding bottles and towels, and then place it in their leather tote bag — for a more chic carryall for their little ones.
All-around bag
If you only need one bag that can do it all and that will fit on all occasions nothing will beat a beautiful leather tote! It is all you need because it is versatile to suit any occasion, available in different colors and styles to match your personality, and extremely durable. 
A leather tote combines fashion and functionality! No matter what event you are attending and where you are going — be it a casual or formal meeting — you will always have a touch of elegance with this bag.
What should I put in my tote bag?
Think of it as your carryall bag, you can put anything in there that you need to bring with you when you leave your home. It is spacious to hold all of your essentials including your favorite book or any other items that you can't leave behind at home like:
Keys

Wallet

Smartphone

Headphones

Phone charger

Laptop

Laptop charger

Pen

Notebook

Tissues

Hand sanitizer

Medication

Hand lotion

Perfume

Sunglasses

Book

Snacks

Water bottle

Extra shirt

Removable pouch for discrete necessities
What is the difference between a tote bag and handbag?
Totes are often compared to a shoulder bag because they seem to offer the same functionalities and are worn the same. However, there are distinct differences between the two.
Tote bags vs Handbags - The Difference
Straps
The simplest distinction between the two is their strap — the number of straps, in particular. Usually, a shoulder bag comes with one strap while a tote bag always comes with two straps.
This is the most important factor that differentiates the two. A bag with one strap like a regular handbag will not open as wide as bags with two straps. If you are planning to purchase a handbag, you should consider how often you will access the content inside it. If you frequently reach inside it for your wallet, laptop, notes or bottle of a two-strap tote is perfect for you.
Shape and Size
Tote bags usually come in a square or rectangular shape and they tend to be oversize. Meanwhile, shoulder bags come in a variety of shapes and styles. There are barrel bags, frame bags, duffel bags, saddlebags, baguettes, and hobo bags. They are also available in different sizes and can be small and compact like a clutch — a small handbag.
Material
Both are available in popular materials — fabrics, cotton, and leather. However, tote bags are very popular in re-usable materials like canvas, natural fibres such as jute, and woven synthetic fibers to allow them for multiple uses.
There are leather tote and leather handbags too and they both undeniably look elegant and luxurious. However, the former is more versatile due to its size and design. In fact, it's a must to own a leather tote!
Do tote bags have zippers?
Most tote bags do not have zippers. They are designed with button closure and some without any closure at all to allow easy access to the items inside without having to unzip or unfasten each time you reach for them.
The classic tote has an open top where you can simply peek and immediately find the item you are looking for. But there are also numerous totes with zip tops. Zippers is a welcome addition for those who prefer to keep their things secure.
What is the best size of tote bag?
Tote bags are usually large in size, but they are still categorized into small, medium and large sizes. 
Small. The tote is large enough to accommodate your essentials such as wallet, lipstick and keys. It will also work perfectly for evening outings.
Medium. This is a more manageable size and can accommodate more than the small one. You might not be able to fill all of your things there, but the must-bring items sure do have space in it
Large. This oversized bag is the perfect choice for those who are always on the go and who usually carry their entire lives in one bag. 
When it comes to choosing the best size, it depends on your personal preference and the things that you will always carry in there. The more items you bring, the more space you need. Otherwise, if you only carry minimal items, a small tote will do.
What is the best leather tote?
When buying a leather tote bag, it is very important that you examine the material used in the bag. The best leather for tote bags is full-grain leather. 
There are many types of leather that can be used for bags like top grain, corrected grain, genuine leather and faux leather. But the best choice is full-grain because it is the strongest and most durable leather.
Full-grain leather has not been sanded or buffed to remove any marks on the hide. It is thick but has a luxuriously smooth surface. Your leather tote bag made of full-grain leather will not stop impressing you even after a decade because it will develop a patina over time that will enhance its aesthetic and make it look better as it ages.
Most, if not all, love patina because it is unique and it's a sign of high quality. A beautiful patina takes time to form and it reflects the story of the leather. Only the highest grades of leather such as full-grain leather develop a rich character. 
Also, since patina is something that takes years to develop, only the most durable leather has it. That's why patina is considered a visible sign of quality.
What type of Leather Tote does Elizo make?
Elizo is dedicated to making our customers happy and satisfied with every product we offer. So, we only use premium full-grain for our leather tote handbags. No faux leather. No genuine leather.
We chose full-grain, the most desirable type of leather because we want to offer a taste of luxury in every item you purchase from us. Full leather is taken from the strongest part of the hide. It retains the natural markings on the skin that tells the story of the animal where the leather came from. 
After years of usage, it will develop a beautiful patina that increases the bag's elegance, value and feel. Yes, we are sure that you will love your tote as it ages because its unique style and charm only become more prominent over time — a sign that proves we only use premium leather for all of our products including toiletry bags, leather passport holder and wallets.
Elizo's handmade leather totes have soft, supple leather that feels good to touch. They are large enough to accommodate everything you need for work, school or even travel.
We also carefully crafted them to be perfect for your every need. They featured ideal pocket placement to help you organize your stuff. There is also a pocket outside for the things you want to access frequently like your phone, keys or pens! Our leather tote is sleek and stylish, you could use it no matter what the occasion day or night.
Elizo offers two types of totes — full-grain zipper and full-grain non-zipper. We give you these options because we understand that each individual has different preferences.
Full-grain Zipper
The original tote is designed with open top to easily get the items inside it. However, we have heard from many customers that they prefer a tote with a zipper top to secure their stuff. 
One of the assets of a tote is its open top design. Unfortunately, it can also be a great setback. When the tote is accidentally topsy-turvy, all the things inside it could fall out. If you are not careful enough to pick all the items that fall on the ground, you might lose your keys or phone.
So, we offer this variation for your peace of mind. You can step out and enjoy the day without worrying about your stuff in your favorite bag because they are safe and secured!
Full-grain Non-Zipper
Of course, we do not want you to miss the classic and original design. We know that many still love the tote for its open top, so we have them available for you. The classic style is for those who want easy access to their essentials, laptop or book. You just have to peek and you will immediately find whatever you need in your bag which helps you save time and energy.
 Available in different sizes
Elizo leather totes are available in different sizes. We take into account your varying needs for space in your handbags. We understand that some may need a more roomy bag than the others so our leather totes are available in small, medium, and large sizes.
Small: 28 cm (base) x 28 cm (height) x 37 cm (top) or

11.10"  (base) X 13" (height) X 15"  (top)

Medium: 31 cm (base) x 30 cm (height) x 42 cm (top) or

12.10" (base) x 14.6" (height) x 17" (top)

Large: 38 cm (base) x 14 cm (height) x 51 cm (top) or

15.10" (base) x 17.6" (height) x 20" (top)
 Enjoy in different colors
Women have different tastes in color, some love dark shades while others don't. You may love a black leather tote bag but not all do. To give you a better shopping experience, our leather totes are available in different colors — black, light brown, chestnut, and saddle.
Due to its quality, our tote can outlast most of the bags in your closet. It can be among the legacy that you can pass down to your children and grandchildren. And we are very sure that they will love it!
Elizo wants to give you the best customer experience in all of our products. If our leather tote handbags do not meet your expectations, get in touch with us and we will make it up with you because your joy is our satisfaction!